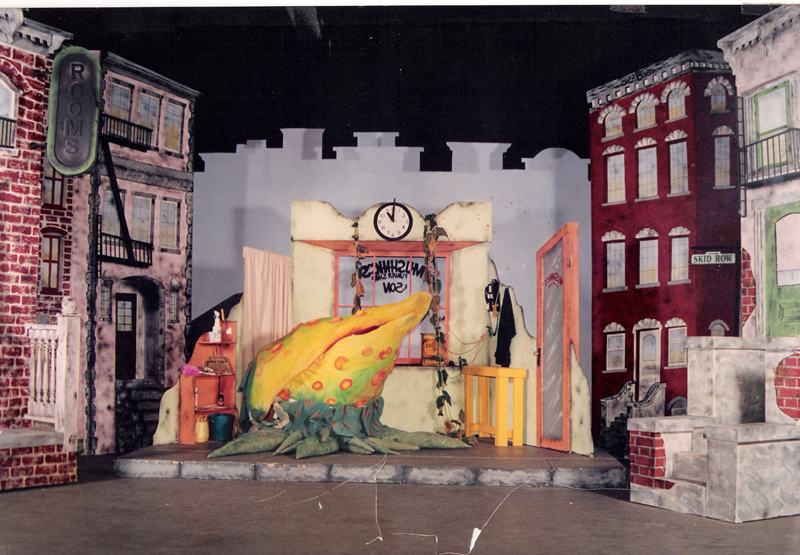 Little Shop of Horrors was the first production I did a set for. Lori was starting to trust me but she covered herself, as always, by getting me an army of volunteers. I taught them to paint bricks and put the all to work. We had done Summer and Smoke with Randy Perkins as the lead and I have a 2 line part in it but helped on the set. I think that was the beginnings of Lori trusting me to do what I said. I ask her at a cast party at when was I going to get more lines. In her Lori condecending voice, she answered, "You think you deserve more lines". When I said "absolutely she looked impressed with my answer. I got more lines the next time around. I knew I had made an impression when she gave me the Lasar Wolff part in Fiddler.
Randy Perkins, had to take a trip to Minnesota to pick up the various stages of the plant which we rented at a much better price that making our own.
Lori and Randy had spent a fortune on remodeling the old Star theater in Covington and installed a stage on both sides of the duplex building. It had practically no wings and very little back stage so the stage next door with a connecting door acted as backstage and greenroom.On one occasion Pat Butters, who later became a great friend, was trying to make a performer on stage laugh by dancing around and acting silly. Little did he know that from the light backstage it was creating a shadow on the set that was about 10 feet tall. Lori was back stage in a flash and let him have a good piece of her mind. I figured we would never see him again on stage but she forgave him because he had a charisma she could not ignore.
Little shop for me allowed me to meet people who I became great friends with because of our love for the theater and the people there. Great friends of Pat Butters, Larry Bozen, Mimi Knight, and many more.